Welcome to the Heating and Cooling Hub
For nearly 90 years, Alfa Laval has been advancing the development of heat transfer technologies used in a broad spectrum of industries, processes and applications. All that experience has given us a wealth of expertise that we put to use, helping customers boost energy efficiency with more dependable and sustainable thermal performance. At our Heating & Cooling Hub, you can take advantage of that knowledge through a range of tools and resources designed to help you improve sustainability by getting the most out of your heating or cooling duty.
Consultant tools / BIM files
Based on unique knowledge from decades of experience supplying thermal solutions, Alfa Laval has been able to create a number of resources that you can utilize to facilitate your day-to-day work. Click here to discover BIM files, 3D drawings and other resources to facilitate your day-to-day work.
Valuable information to save you time
Heating and cooling knowledge
Take advantage of Alfa Laval's decades of experience in a wide range of thermal duties.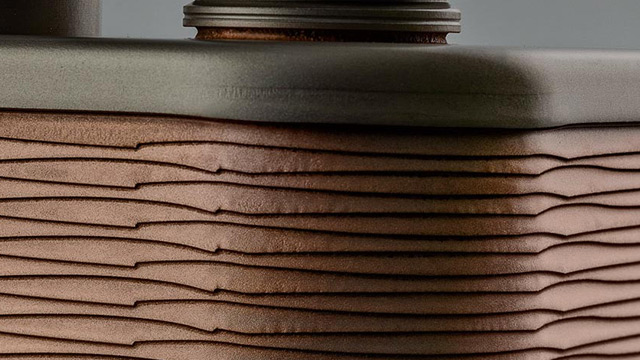 Product overview
Browse our comprehensive portfolio of leading plate heat exchanger technologies.
Latest news
Read the latest from the world of Alfa Laval heat exchanger development and innovation.
The easy way to reduce your energy costs and increase energy efficiency
A refund is just the start of your savings potential with the new exchange programme. Alfa Laval's innovative heat exchanger technology will significantly increase the energy efficiency of your processes. That means drastically lower power consumption and carbon emissions, along with a significant reduction in your long-term operating costs.
Webináře a panelové diskuse z oblasti ohřevu a chlazení
Odvětví vytápění a chlazení prochází rychlou transformací s důrazem na zvyšování energetické účinnosti a udržitelnost procesů. Společnost Alfa Laval drží krok s nejnovějšími trendy a výzvami. Na našich webových seminářích xChanging ideas se můžete dozvědět více o trendech, které ovlivňují toto odvětví, a zapojit se do diskusí s našimi špičkovými odborníky. Zúčastněte se živě nebo se podívejte na záznam dostupný na vyžádání.
Online heat exchanger training
Sign up for a self-driven course to learn more about the different types of plate heat exchanger technology available today. To make sure you get the most out of Alfa Laval's expertise, all courses are free of charge. Start them whenever you like and go at your own pace.
Bílá kniha: Orientace na měnícím se trhu s chladivy
Na trhu s chladivy v současné době probíhají rozsáhlé změny. Legislativa vedená obavami o životní prostředí prosazuje postupné vyřazování tradičních chladiv ve prospěch nových alternativ s nižším potenciálem globálního oteplování (GWP). Stáhněte si tuto bílou knihu, kde najdete základní informace o výběru a přizpůsobení alternativních chladiv pro různé aplikace vytápění a chlazení.
Accelerate sustainable solutions
Imagine a more sustainable world. A world where it takes less to produce even more. A world where we efficiently meet our growing energy demands and simultaneously reduce CO2 emissions. Image a world where we can harness the power of natural resources, while preserving them at the same time. At Alfa Laval, we don't just imagine this world. We're building it - together with our customers and our partners.
AHRI-performance-certified heat exchangers for confident thermal performance
Certification from the Air-Conditioning, Heating, and Refrigeration Institute (AHRI) is the only global third-party verification of thermal performance, giving you independent assurance that your plate heat exchanger will perform in accordance with the manufacturer's published ratings. Alfa Laval offers AHRI-certified gasketed plate heat exchangers, brazed plate heat exchangers and fusion-bonded plate heat exchangers.
Our products
For decades, Alfa Laval has been developing plate heat exchanger technology tailored to our customers' applications. Today we offer the market's most comprehensive portfolio of plate heat exchangers to cover the widest range of needs. With the experience we have gained along the way, we can match you with your optimal solution.
Brazed plate heat exchangers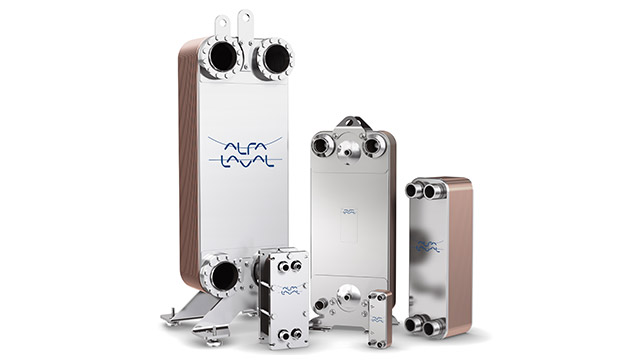 Lightweight copper-brazed construction with compact footprint
Greater thermal efficiency than comparable shell-and-tubes
Flexible options to fit a variety of applications with all different types of media/fluids
Ideal for natural and low-GWP refrigerants
Fusion bonded AlfaNova heat exchangers
True 100% stainless steel construction
Strong corrosion resistance with aggressive media
Prevents metal contamination in drinking water and other hygienic applications
High thermal efficiency and compact footprint
Gas-to-liquid plate heat exchangers
Supports gas temperatures up to 750°C, with possible temperatures above 1400°C in some applications
Very low pressure drop in asymmetric applications thanks to patented "dimple" plate design
Lightweight construction up to 75% smaller than comparable shell-and-tubes
The only plate heat exchanger type optimized to work with gas media
Gasketed plate-and-frame heat exchangers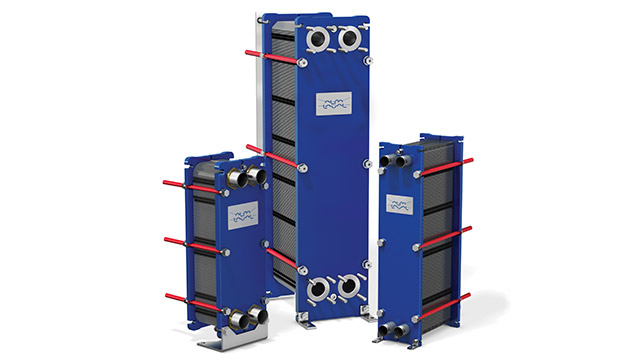 Flexible solutions that can be adapted to the duty ensuring highest thermal efficiency
Compact designs save space and are easy to service and maintain
Solutions to reduce fouling, stress and corrosion for maximum uptime
Semi-welded plate heat exchangers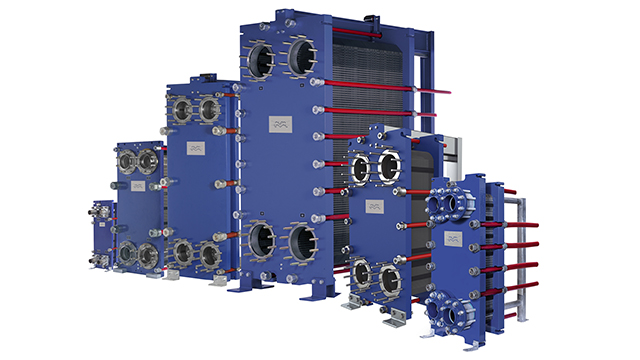 Highly efficient, reliable technology for applications that can cause pressure or temperature fatigue
Guaranteed long sealing lifetime thanks to unique Alfa Laval RefTight™ sealing system
A dependable solution for preventing cross-contamination between media
Rychlý výběr
Společnost Alfa Laval usnadňuje nalezení nejlepšího řešení pro vaši aplikaci. Podívejte se na náš nástroj pro rychlý výběr, kde si můžete prohlédnout produkty a najít partnery společnosti Alfa Laval, abyste si mohli vyžádat cenovou nabídku.
Looking for more heating and cooling insights? Contact us today!